Source: IRIS (07 July 2015)

Investors should moderate return expectations to mid-teens: Pradeep Gokhale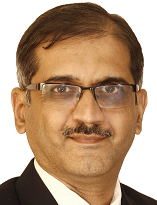 Investors should moderate their return expectations to mid-teens following strong run up in the equity markets in the last eighteen months, said Pradeep Gokhale, senior fund manager, Tata Mutual Fund.
In an interview with Sourabh Pandhare, Pradeep Gokhale said, 'Equities would be the best asset class to invest over the next three years, beating other investment avenues such as real estate and gold.'
Interview Excerpts:

1) Could you throw some light on your fund management style? How frequently you review and churn fund portfolio? What are the key things you look at before taking a buy or sell call in a particular stock?

We believe Indian economy offers many opportunities for growth and therefore our predominant investment style is Growth at Reasonable Price (GARP). We prefer companies that compound their earnings over a longer time frame and which maintain a decent return on capital employed in the business. Management quality is another important aspect we consider before investing in companies.
As the term GARP suggest, buying at reasonable price is critical for longer term investment returns. Hence the valuation at which a stock is trading is a very important consideration. We also look at liquidity of the stocks and portfolio. Thus earning growth potential, return on capital employed, management quality, valuation and liquidity are the key parameters on which we base our investment decisions. We occasionally use value style if we feel a catalyst is present which will help in quicker realization of the underlying value.

We typically take a medium term view on the stocks we buy and our core portfolio sees limited churn. Portfolio review is a regular exercise as business and economic conditions are dynamic. Portfolio churn is also a function of the fund objective. Thus typically a diversified fund like equity opportunities fund will have a higher churn than pure equity fund which is a large cap fund or ethical fund which is thematic fund.

2) In recent report, Moody's pointed out some disappointment over the pace of reforms under Modi's government and also highlighted concerns about risk of policy stagnation. What is your take on it? How do you see impact of reforms over last one year on the economy and markets?

We feel that Government is taking a very pragmatic approach to economic reforms. It has focused on decisions which are within the executive powers of government. Fiscal deficit has been controlled. Despite a very bad monsoon last year, Government managed to keep food inflation low by deft management of food stocks. Auto fuel prices have been deregulated.
Apart from reducing unproductive subsidies, Government is also looking at better targeting of subsidies through Aadhar and DBT. Government has acted quickly on issues such as allotment of natural resources like minerals. Coal blocks have been successfully auctioned within six months of the Supreme Court decision without impacting production from existing blocks.
The speed of decision making and execution has improved in various areas. Many stalled projects have revived and working towards completion. Public sector infrastructure spending is rising. FDI regulations have been liberalized in sectors such as defence and insurance. The impact of these measures will be seen over the next 12 to 18 months. Bills relating to GST and Land acquisition have been introduced in Parliament.

3) There has been mild increase in corporate earnings in March 2015 quarter. Sales growth was slightly better than earnings growth. Do think corporate performance in June 2015 quarter will improve or remain lacklustre?

We expect earning recovery to be more back dated and uneven. We expect earnings to improve for sectors which benefit from public sector capex as also urban consumption recovery. Commodity consumers can see earnings improve while earnings will be under pressure for commodity producers. The first half of FY16 may not see strong earnings growth.

4) Most of your equity oriented funds have high exposure to banks, software, pharma, infra and automobile sectors. What is the rationale behind betting big on these sectors? How do you see these sectors performing in next one year?

We expect earnings recovery to be led by public sector capex on infrastructure, recovery in urban consumption and pass though of lower interest rated to corporates. We therefore are overweight on sectors such as capital goods and construction, cement and autos.
Relative to our benchmarks, we are actually slightly underweight on banks and IT. Banks will have lower loan growth and some pressure on NIMs while IT sector will have revenue growth at the lower end of their historical range. However, both these sectors are structural stories and hence we are only marginally underweight.

5) Indian markets witnessed a recovery in the last few sessions after a steep fall due to FII selling amid Greece crisis. What is your view on the current situation in the markets? How do you see the market outlook over next 6 months?

We are quite constructive on the markets with a three year view. India's macros are improving, valuations are at long term averages and earnings growth is expected to improve gradually. Indian markets are trading at about 16.5x FY16 EPS estimates and 14.5x FY17 EPS estimates, in line with long term averages.
Post the recent correction, India's valuation premium with respect to other emerging markets has also reduced significantly. After a strong run in Indian markets from February 2014 to March 2015, some correction can be expected. Markets will not move in a straight line.

6) Most of your equity funds have delivered returns of over 20% over the last one year. Considering the current market situation, do you think returns on equity funds remain in double digits over next one year? What is your advice to investors at this point in time?

We feel equities would be the best asset class to invest over the next three years, beating other investment avenues such as real estate and gold. Having said that, we feel investors should moderate their return expectations to mid-teens, after the strong run up in last eighteen months. We feel investors should systematically invest in equities and use any volatility / correction to their advantage.
Disclaimer: The views expressed in this article are personal in nature and in is no way trying to predict the markets or to time them. The views expressed are for information purpose only and do not construe to be any investment, legal or taxation advice. Any action taken by you on the basis of the information contained herein is your responsibility alone and Tata Asset Management will not be liable in any manner for the consequences of such action taken by you. Please consult your Financial/Investment Adviser before investing. The views expressed in this article may not reflect in the scheme portfolios of Tata Mutual Fund.

Mutual Fund investments are subject to market risks, read all scheme related documents carefully.