Source: IRIS (05 February 2016)

Growth stocks look attractive at current valuations: Shreyash Devalker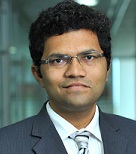 Current levels are attractive for investment in equities considering improving macro-economic scenario in India, said Shreyash Devalker, Fund Manager, BNP Paribas Mutual Fund. Within equities, growth stocks look attractive at current valuations, he said.

In an interview with Sourabh Pandhare, Devalker said, 'We are overweight on private sector retail focused banks and NBFCs, telecom, road, rail, defense and companies, which are beneficiary of falling energy prices.'

Interview excerpts:

1. Recently Indian stock markets touched 20-month low amid concerns over correction in Chinese markets fueled by slowdown in the second largest economy. What is your take on recent correction? Is the fall in the Indian markets justified/ excessive?

Macroeconomic conditions of Indian economy has improved drastically from Sept 2013 when economic indicators were at its worst. The twin deficit, GDP growth, inflation on all the parameters the current economic situation is far better than then. This improvement in macro has not yet resulted in improved corporate sector earnings. We expect the process is imminent in this year triggered by higher spend on Infra by government and seventh pay commission''s impact on consumer economy.

2. Steep decline in oil and depressed commodity prices are helping Indian economy. But at the same time, fall in prices impacting energy and resource companies and their respective stocks heavily. Does equity markets need higher oil and commodity prices at this point in time for staging a bounce back from current levels?

Depressed commodity prices including Oil, affects the economies, countries and the sectors whose earnings/debt servicing capabilities are dependent on these get affected, thereby hurting asset quality as well, apart from earning growth. Hence reasonable level of commodity prices is essential.

3. What is your initial reading of recently started earnings season? What is your expectations on overall third quarter earnings season?

So far revenues declined about 3% yoy, driven by global commodity sectors. EBITDA margins ex global commodities are inline; consumers, media and telecom saw a yoy improvement in margins. Earnings growth (overall/ex global commodities) is up 7%/10% yoy so far. Consensus Nifty earnings estimates for FY16-18 likely to be revised downwards.

4. When do you see marked recovery in corporate earnings performance? What factors affecting profitability of companies?

Commodity deflation is primarily affecting the profitability apart from slower private sector capex. We expect the revival and rural/urban economy due to wage hikes (7th pay commission impact) and likely better monsoon. Spend on Infrastructure by government are expected to drive certain segment of economies as well.

5. Budget session will start next month. What is your expectations from Budget? Do you think Budget will be next big trigger for markets?

Key expectations is around steps towards lowering of corporate tax and higher capex. Though seventh pay commission recommendations is a headwind for fiscal deficit targets, tailwinds are expected to be driven by higher collection of taxes on fuel and services, savings on fertilizer subsidy and asset sales (government holdings in listed entities, spectrum etc). Given state of local/global economies trade off is expected to be in favor of higher growth compared to further curtailing the deficit.

6. Foreign investors' net inflows fell more than 80% in 2015. Do you think lack of FII participation will continue to haunt markets in 2016?

Commodity price deflation is taking toll on all asset classes including equity. Reversal in trend of FII inflows would be definitely positive for markets.

7. How are you approaching the markets? What kind of allocation are you making towards different asset classes?

We believe companies create wealth and not markets. We focus on Industry which are growing faster than GDP and companies within it growing faster than GDP. Idea is to build portfolio with earning growth better than benchmark earning growth.

8. Does current levels prompting you to buy stocks at cheaper valuation?

The valuations are attractive for growth stocks and we continue to hold companies having strong moat, growth, in line with our BMV framework of investing.

9. According to you, which sectors look attractive at current levels?

We are overweight on private sector retail focused banks and NBFCs, telecom, road, rail, defense and companies, which are beneficiary of falling energy prices.

10. Which sectors are you avoiding at this point of time?

We are avoiding private sector capex related sectors, PSU banks and commodity linked companies.

11. What is your advice to investors at this point in time?

Considering improving macro economic scenario in India and we being net beneficiary of fall in commodity prices, current levels are attractive for investment in equities.

12. Would you recommend any specific fund to investors?

We recommend large cap fund and some exposure to midcap fund.