INTRODUCTION | PRODUCT SEGMENT | INDIAN SCENARIO | ENTRY BARRIERS | OUTLOOK | LOGISTICS | POTENTIAL IN INDIA
---
The courier industry specialises in time-definite, reliable transportation services for documents, packages and freight. This is done via a combination of transport networking that includes road, rail, sea and air for door-to-door delivery. This extensive distribution system is supported by infrastructure that comprises hubs, warehouses, IT technology and human resources, as well as offices in various cities.
Over the past two decades, courier services have grown increasingly important to businesses needing to use "just-in-time" manufacturing and retailing techniques and supply-chain logistics in order to remain competitive. Increasing reliance on these services has led the industry to grow at close to 30% over the past four years. Owing to the growing demand for reduced transit time and early deliveries the industry is forecast to grow at 25% for the next two to three years, making this one of the fastest growing segments in the transportation of cargo. International express cargo holds 6% of the express cargo industry, but is forecasted to reach 40% by 2017.
Since transportation is a major part of the operations of courier companies, transportation costs form the single largest component of their operating costs.
The fortunes of the industry are inextricably linked to the volumes of business that is generated, because this industry has a very high level of operating leverage. Thus, growth of this sector is driven by macroeconomic variables directly linked to the manufacturing sector and trade.
Documents
This segment comprises letters, financial instruments and other documents. The typical weight per shipment is up to 500 gms. This is the traditional segment for the courier industry, and is expected to grow at 12-15% per annum.
Packages
These are shipments containing commercial goods like electronic products, samples, spare parts, air conditioners and other commercial commodities. Growth in this segment is expected to be 30-35% per annum. This segment can be divided into two broad sub-segments:
Air Shipment: This is made up of high-value and time-sensitive shipments that move through air transport. The typical weight per shipment is up to 50 kgs.
Ground Shipment: These shipments have a transit time of 2-5 days, depending on the destination. Shipments are typically high-weight or low-value.
Broadly speaking, the express industry comprises two sectors:
The domestic segment, where movements occur within the country, and
The international segment, where movements occur from/to other countries.
The domestic courier industry with a turnover of Rs 20 bn is still at a nascent stage when compared to developing countries like China where the industry is five to six times bigger.
At present, there are about 2300 courier companies in India, but four major players in the premium organised segment dominate the industry. Blue Dart Express Ltd. (Blue Dart) is the market leader, with a 36% market share in the domestic market, and Elbee Services Ltd., the second largest player, has a 20% market share. AFL-DHL is primarily focused on the international segment, where it is the market leader, whereas Gati Corporation Ltd. (Gati) is the market leader in the domestic packages, ground distribution segment. In the domestic air packages segment, Blue Dart, having developed its own air network and aircraft operations, is currently the market leader.
Revenues of Major Player in the Indian Market (Rs. bn)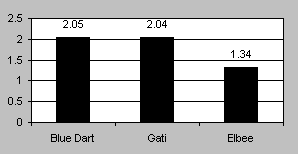 In the mid-1980s, professional couriers were used primarily to send time-sensitive documents. However, this trend began changing towards end-1980. It was during this period that payers like Blue Dart and Elbee really made an entry and, by the end-1980s, began shipment of samples for non-commercial purposes.
This period saw the domestic express industry growing at 30-35% per annum, resulting in international express companies like Federal Express (FedEx) and United Parcel Service (UPS) enter through strategic alliances with Blue Dart and Elbee, respectively. Elbee also has a strategic alliance with TNT for European operations. Strategic alliances with global express companies give Indian companies access to global markets, without having to replicate their network in the international market. Liberalisation and the export boom in the early 1990s gave a further fillip to the industry. The end of 1996 saw a slowdown that stemmed from the economic recession and slowdown in industrial growth.
Most Indian companies have seen impressive growth in volumes this fiscal, with growth primarily being in the high-volume document business. In FY00 the industry recorded revenue of Rs 20.1 bn. A recent ORG-MARG survey forecasts the industry growing at 20% per annum over the next 5 years, to Rs 50.4 bn.
The organised segment dominates the package and the premium document business since it requires a strong infrastructure and resources, while the low-yield document business is the domain of the unorganised sector. However in value terms the share of the organised sector is 64% and of the semi-organised and unorganised sector is 36% inspite of the large volumes it handles.
Revenue Distribution
Distribution of Volume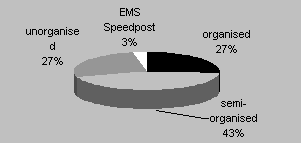 International operations are less profitable, compared to domestic operations, due to the imperatives of revenue sharing of international business with the global partners. The revenue sharing break-up is more favorable to the partner who has a majority share (60%) of all international consignments delivered in India. This forces Indian companies to realign their product mix in favour of the more profitable domestic non-document business. Currently 64% of the revenues accrue from domestic operations and 36% from international operations.
The express industry is a non-regulated one, where no license is needed to enter. However, strong brand franchise, excellent distribution network and huge investments in infrastructure and technology, with trained manpower and an international tie-up for global reach, constitute substantial entry barriers, making it difficult for new players to enter the market.
The industry caters to a wide range of sectors, including e-commerce, distribution and logistics, which calls for a strong infrastructure and a huge network, covering a vast geographical area. This involves not just delivery capability of a particular type of shipment, but shipments ranging from a document to a planeload. It takes significant lead-time, as well as substantial investments, to develop such an extensive network. Some of the already existing courier companies like Blue Dart services 11,558 domestic locations and 211 countries through its tie-up with FedEx. Elbee services 13,500 domestic locations and has 150 branches.
Creating a strong human interface of skilled manpower is another important aspect to setting up a courier company. Apart from the large number of people to be employed, companies also need to spend large sums in training their employees as well as upgrading their knowledge. Also vital is a strong brand image. All this involves large investments and years of developing and training.
Where speed of information is an important prerequisite for success, high level of technology orientation is essential.Companies have invested significant amounts in Information Technology-hardware, software and national communication backbone. It takes companies as long as 15 years to develop the processes and software applications, with significant cost attached to the learning process.
In the domestic surface segment a company needs to operate a dedicated network on a daily basis to attract clientele. Apart from significant investments there is also significant lead-time between making this network operational and achieving break-even point. It would take a company atleast 2-3 years to achieve breakeven capacities on this network and absorb significant losses to operate this network. For international business, a new player will have to tie up with a global player with a significant global presence. After making these significant investments new players will have to absorb significant operating losses till the entire network achieves break-even point.
Global express companies are unlikely to enter the domestic market, as they would need to match the existing playersí distribution network and infrastructure covering the length and breadth of the country. Thus, if these companies do enter, it could be through tie-ups with domestic players. Competition from the Indian Postal department is building up with levels of computerisation improving significantly.
A few large players in the organised segment dominate the Indian industry. High entry barriers will provide sustainable growth opportunities for these companies in the future.
E-commerce will present a huge growth opportunity, as there is expected to be a lot of business coming from Internet and e-commerce activities. Owing to a good distribution network, the courier industry is well positioned to tap emerging opportunities from e-commerce B2B and B2C trade. E-commerce has become increasingly dependent on express companies for delivery of goods, rather than set up infrastructure for this purpose. Research has shown that, worldwide, B2B commerce is expected to grow from the present $138 bn to $541 bn by 2003. Indian courier companies are looking at additional volumes from B2C and other portals. Elbee has tied up with over 70 portals to manage its total product supply, Blue Dart has also tied up with a number of portals to serve the B2C segment. But whether the volumes generated will affect margins in the near future is doubtful, as they will still be a small percentage of the total turnover.
Already, the leading express companies are preparing to cash in on the e-business boom. For instance, Elbee Services has designed a logistics solution for e-businesses. The customised product, elbeenet.com would provide end-to-end logistics solutions. Blue Dart is also planning a comprehensive e-commerce foray to complement its central logistics function.
Third Party Logistics (TPL), whereby companies outsource logistics requirements in relation to Supplier Chain Management (SCM) and Customer Relationship Management (CRM), is also a big growth opportunity. Courier companies like Blue Dart and Elbee are positioning themselves as total logistics solution providers.
The lightweight documents business has a lot of potential, with the fast growth in the credit and ATM card market. The credit cards market is expected to grow at a CAGR of 30-35% in the next five years. An increase in Internet banking is also likely to provide good growth opportunity.
Courier companies are looking to be dominant regional players, as margins from domestic operations are 20-25% higher than those from international operations. With custom duties expected to come down, courier companies are bullish on international inbound volumes. In 1984 revenues from international operations contributed to 80% of Blue Dartís revenues, today this is reduces to 19%. Elbee is also aiming at a 25:75, international-domestic product mix in the next three years.
With the increased usage of fax, e-mail, etc. as well as increased competition from the emergence of a number of players in the semi-organised and unorganised sectors, the incremental business from the document segment has slowed down. This has already happened globally, and the trend is evident in the domestic market too, with the reduction in prices, by around 30% in the last three years. Document business accounted for 28% of Blue Dartís revenues in financial year 2000 and for Elbee it currently accounts for 20% of the revenue.
Ownership of aircrafts or the use of commercial airlines has been debated for quite long. Blue Dart currently operates 2 aircrafts and will start operations of the third aircraft soon. Elbee on the other hand shut down its aircraft operations, as it was commercially non-viable. Elbee now relies on commercial airlines.
According to research estimates the total costs of owning an aircraft are approximately Rs 1300 mn as against Rs 800 mn for commercial airlines. This includes not only the high fixed costs but also the cost of Air Turbine Fuel (ATF). With fixed costs being really high for aircraft operations companies have to rely on high operating leverages. When volume growth is low using commercial airlines are more viable as this model works on a lower fixed cost and a higher variable cost.
Hike in the price of ATF works to the disadvantage of owned airline operations. Cost of ATF accounts for 42% of Blue Dartís total freight costs and 68% of the operating costs.
Owned aircrafts however reduce the dependence on commercial airlines. Moreover the plus of owning an aircraft is the flexibility to operate at night and ensure a 10:00 am delivery in the morning.
Logistics, as defined by the Council of Logistics Management, is "the process of planning, implementing, and controlling the efficient, effective flow and storage of goods, services, and related information from point of origin to point of consumption for the purpose of conforming to customer requirements."
Broadly, logistics encompasses transportation; freight forwarding; customs and documentation; and warehousing and distribution. Information systems are now playing a critical part in linking these areas to create an integrated supply chain function, and computer applications now enable companies to track and manage goods every step of the way.
Source: Council of Logistics Management
With business organisations increasingly looking to use logistics services at some point or the other in their routine business, the importance of logistics is increasingly being emphasised. For instance, manufacturers need to move input material from the origin of their plants and then distribute the finished product to their clients. Apart from this, they also have to meet requirements such as storage of inputs and products, during the process.
There are several current trends in the management of logistics. The principal trend, driven by competitive pressures and client needs, and enabled mainly by information technology, is to combine and streamline various logistics activities, such as purchasing, storage and transportation. This trend is occurring both within organisations that handle their own logistics requirements in-house, as well as within the operations of logistics services providers. For example, trucking firms often offer storage, packaging and other related services. Consequently, as traditional service providers continue to increase their lines of business, they tend to join the Third Party Logistics (3PL) component by becoming capable of offering seamless or integrated services tailored to meet the exact needs of clients.
Apart from the vast infrastructure, which is critical to the industry logistics is also a complicated interplay amongst the components of this infrastructure. This interplay is what constitutes the soft assets of logistics service providers, and is highly critical to the success of the venture.
In India, the logistics industry is still at a very nascent stage. However, as more and more parties outsource their supply chain management, third-party providers stand to gain. With the total value of e-commerce transactions in India expected to rise to around Rs 100 billion by 2002, logistics is expected to account for 5% of the value.
Manufacturing companies in the West have started outsourcing their logistics requirements. This trend will soon catch up in India.
Express companies such as Blue Dart and Elbee Services are already into the logistics business. Elbee is positioning itself as a total logistics solution provider. The company provides logistics solutions specifically tailored to meet customer requirements. Blue Dart also provides customised logistics solutions to meet the changing demands of businesses.
The distribution infrastructure these companies have, in terms of warehouses, hubs, transportation fleets and IT and manpower, makes logistics a natural extension for their activities.
Container Corporation (Concor), the public sector logistics service provider acts as a single -window service provider for all logistics and regulatory aspects (including customs and ports clearance before consignment reaches the point) related to transporatation of goods, mainly for Exim trade. It also deals with foreign shipping companies for further transit of outbound cargo. Concor has built an extensive infrastructure and systems in order to handle export-import and domestic cargo.
As import barriers are done away with over the next few years, the movement of international cargo and the resultant movement of domestic cargo is expected to increase multifold. This is because, just as doors open for freer imports, the world will welcome Indian exports.