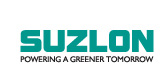 Suzlon Energy, the world's fifth largest wind turbine supplier, posted a consolidated net loss of Rs 11,545.30 million for the quarter ended Dec. 31, 2012 as compared to net loss of Rs 2,864.60 million for the corresponding quarter last year. The net loss increased 4-fold.

Consolidated total income dropped 19.6% to Rs 40,741 million from Rs 50634.10 million during the same period. Numbers were quite below analysts' expectations. Analysts on an average had expected net loss of Rs 3070 million and total income of Rs 55,770 million for the quarter.

Suzlon posted a consolidated forex loss at Rs 470 million during the quarter as against loss of Rs 343 million in the corresponding quarter of last fiscal.

In another announcement, the company said the board has decided to close its Rotor Blade and Control Panel manufacturing units at the Puducherry (Pondicherry) manufacturing facility.
The decision follows on account of the challenges faced in industrial relations at the manufacturing facility coupled with logistical issues faced by the facility in handling multi-MW wind turbine components of increasing size and the current financial position of the company.

This, however, does not include the Nacelle unit at the same facility, which could see utilisation as a service centre. This would also help the company in reduction of opex and working capital intensity as well as rationalize capacity in the company's supply.
Shares of the company gained Rs 0.85, or 3.71%, to settle at Rs 23.75. The total volume of shares traded was 9,306,250 at the BSE (Thursday).


Suzlon Energy Limited (Q,N,C,F)*