body{margin:0px; font-family:Arial;} .heading{font-size:22px; padding:3px; color:#002b99; font-family:Tahoma;font-weight:bold} .subhead{background-color:#e3e3e3; font-size:14px; padding:3px;} .newstext{color:#004276; font-size:14px; padding:3px;font-family:arial} .redbar{background-color:#a60000; font-size:10px; color:#FFFFFF;padding:3px;} .black{background-color:#000000; font-size:10px; color:#FFFFFF;padding:3px;} .smalltext{font-size:10px; padding:3px;}

Bank of Baroda approves Rs 8.50 bn preferential issue to GoI
Bank of Baroda
, one of the leading public sector lenders, approved on Monday to issue shares aggregating upto Rs 8.50 billion on preferential basis to Government of lndia (GOI).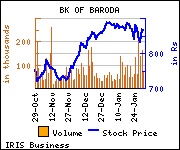 Shares with face value of Rs 10 each will be issued for cash at a premium to be determined in accordance with SEBI (ICDR) Regulations.
The bank has called extra-ordinary general meeting, which be held at Vadodara on Mar. 11, 2013 for the same purpose.


Bank Of Baroda (Q,N,C,F)*