Pharma major, Lupin today reported better-than-expected growth of 42.55% in consolidated net profit to Rs 3.35 billion for the quarter ended Dec. 31, 2012 as compared to Rs 2.35 billion in the same period last year. Analysts on an average were expecting profit of Rs 2.99 billion.
During the quarter, the company saw an increase of 38.69% in total income to Rs 25.27 billion from Rs 18.22 billion in the same quarter last year.
It registered net sales of Rs 24.65 billion, a rise of 37.63% from Rs 17.91 billion during the corresponding period in the last financial year.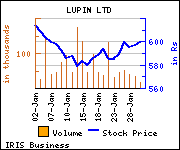 Commenting on the results, Kamal K. Sharma, managing director, Lupin, said ''We had a record quarter driven by strong operating performance and growth in the US. Importantly, we continue to improve on margins consistently.''
Shares of the company gained Rs 12.75, or 2.13%, to trade at Rs 612. The total volume of shares traded was 314,662 at the BSE (2.03 p.m., Thursday).


Lupin Limited (Q,N,C,F)*