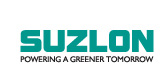 Suzlon Energy, the world's fifth largest wind turbine supplier, announced jumped on Friday after the company's domestic lenders, a consortium of 19 banks, approved the company's corporate debt restructuring (CDR) package of Rs 95 billion (USD 1.8 billion).
The package includes a two year moratorium on principal & term-debt interest payments; a 3% reduction in interest rates and six month moratorium on working capital interest.
As part of the package Rs 15 billion (USD 270 million) will be converted into equity / equity linked instrument over the next two years to bring stronger financial stability; and, a 10 year door-to-door back-ended repayment plan.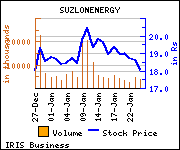 Shares of the company are trading at Rs 18.95, up Rs 0.9, or 4.99% at the Bombay Stock Exchange (BSE) on Friday at 10:31 a.m.

The scrip has touched an intra-day high of Rs 19 and low of Rs 18.45. The total volume of shares traded at the BSE is 2,446,742.

In the earlier session, the shares declined 2.96%, or Rs 0.55, at Rs 18.05. Currently, the stock is trading down 41.42% from its 52-week high of Rs 32.35 and above 28.47% over the 52-week low of Rs 14.75.
Share Price Movement
Period
Price
in Rs
Gain/(Loss)
in Rs
in %
1 Week
19.00
(0.95)
(5.00)
1 Month
17.60
0.45
2.56
3 Months
15.45
2.60
16.83
6 Months
17.15
0.90
5.25
1 Year
27.25
(9.20)
(33.76)
Note: Based on previous day closing price.


Suzlon Energy Limited (Q,N,C,F)*