Aurobindo Pharma, a mid-size pharmaceutical company, gained on Monday after it has received final approvals from the US Food & Drug Administration (USFDA) to manufacture and market Oxacillin for Injection USP, packaged in 1g and 2g vials and Oxacillin for Injection USP 10g/Vial pharmacy bulk package.
Oxacillin for Injection USP is a sterile semisynthetic penicillin (SSP) indicated in the treatment of infections caused by penicillinase producing staphylococci which have demonstrated susceptibility to the drug.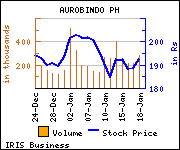 Shares of the company are trading at Rs 195.70, up Rs 3.1, or 1.61% at the Bombay Stock Exchange (BSE) on Monday at 11:42 a.m.

The scrip has touched an intra-day high of Rs 196.70 and low of Rs 193.10. The total volume of shares traded at the BSE is 105,697.

In the earlier session, the shares gained 2.15%, or Rs 4.05, at Rs 192.60. Currently, the stock is trading down 4.49% from its 52-week high of Rs 204.90 and above 104.81% over the 52-week low of Rs 95.55.
Share Price Movement
Period
Price
in Rs
Gain/(Loss)
in Rs
in %
1 Week
184.55
8.05
4.36
1 Month
195.10
(2.50)
(1.28)
3 Months
156.80
35.80
22.83
6 Months
108.40
84.20
77.68
1 Year
100.10
92.50
92.41
Note: Based on previous day closing price.


Aurobindo Pharma Limited (Q,N,C,F)*