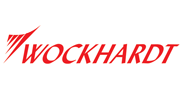 Wockhardt, one of the leading pharmaceutical and biotechnology companies, on Wednesday posted a phenomenal jump of 3.55 times in consolidated net profit for the quarter ended September 2012, helped by higher revenues and strong margins.
During the quarter, the net profit of the company increased to Rs 4.53 billion as compared with Rs 1.27 billion in the same period last year. The PAT margin at 33% was the highest in the industry.
Total income of the company increased by 28.86% to Rs 13.47 billion from Rs 10.45 billion for the last year.
Wockhardt's EBITDA for Q2FY13 stands at Rs 5.17 billion, with EBITDA Margin at 38.4% for the quarter, one of the highest in the industry and has improved from 29.4% in the corresponding quarter of the previous year.
The earnings per share was at Rs. 75.9 for the 1st Half of Financial Year 2012-13.
Shares of the company gained Rs 55.05, or 3.24%, to trade at Rs 1,755. The total volume of shares traded was 21,607 at the BSE (12.14 p.m., Thursday).


Wockhardt Limited (Q,N,C,F)*